Healthcare Consumerism – Customers vs. Patients
Healthcare consumerism is a term used to describe the shift in healthcare from a provider-centric to a patient-centric model. In the past, healthcare was decided mainly by insurance networks that told individuals whom to see and was provided by hospitals and other traditional healthcare institutions. However, healthcare consumerism has increased the number of patients taking a more active role in their healthcare. This includes choosing their healthcare providers, researching treatments, and advocating for themselves. 
As a result, healthcare systems need to adapt to this new reality. Healthcare consumerism means providing more transparency around pricing and quality and offering personalized care plans. Healthcare consumerism is here to stay, and those who fail to adapt will be left behind.
What is Healthcare Consumerism? 
The healthcare consumerism movement has been gaining momentum in recent years and accelerated during the pandemic as patients become more active and informed participants in their care.  
Its cornerstone belief is that consumers should be actively involved in their healthcare decisions and benefits. Patients are aware of the benefits and costs, and they choose where they seek treatment and from whom. They pick their medical providers based on their ability to adapt to their needs and work directly with physicians, health systems, and primary care providers that align with their values, beliefs, and considerations.
Health Systems Slow to Adopt
However, health systems have been slow to adapt to this new patient-centric model, and many are still failing to meet the needs of healthcare consumers. 
There are several reasons for this, but one of the most important is that healthcare consumerism requires a different paradigm than the traditional healthcare model. In healthcare consumerism, the focus is on the needs and preferences of the individual patient rather than on the system's efficiency as a whole. This shift can be difficult for health systems to make, but it is essential if they want to meet the needs of healthcare consumers. 
While traditional healthcare ideas focus on what is best for the patient, healthcare consumerism focuses on what the consumer demands from the provider. This means letting the consumer decide what they want from healthcare providers rather than having healthcare providers determine what the patient needs. Patients want to understand their medical care journey without jargon involved and also be able to make the best decisions for themselves—especially medically and financially. It comes down to patients wanting to be as involved as possible regarding their diagnosis, treatment, medications, and more.
Until health systems can make this shift, they will continue to struggle with healthcare consumerism.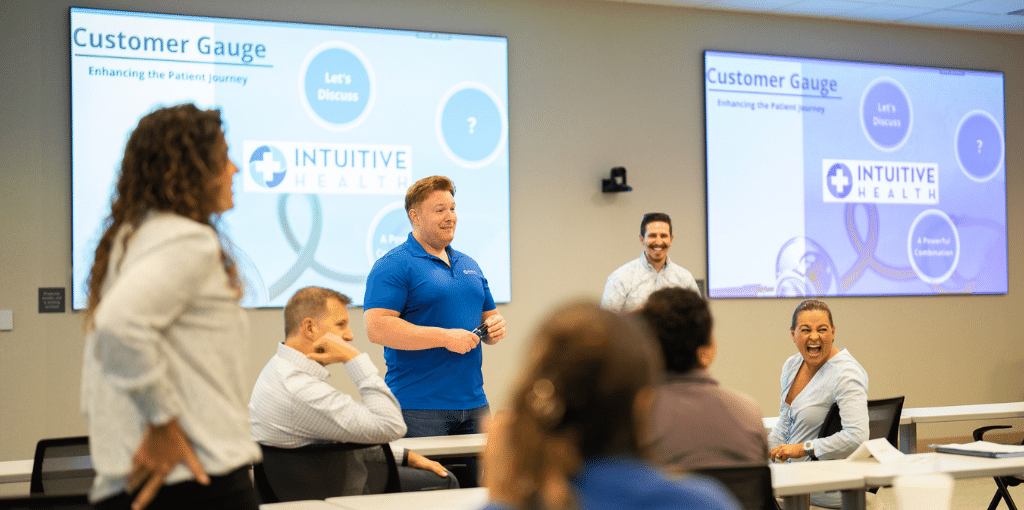 The Role of Value Based-Care
Since healthcare costs play a significant role in consumerism healthcare, it is essential to look at the part value-based care plays. 
Value-based care is a model of paying for healthcare services that incentivize providers to deliver better quality care at a lower cost. This approach is based on the premise that healthcare consumers are price-sensitive and will seek providers who offer high-quality care at a price they are willing to pay. 
The goal of value-based care is to improve the quality of care while also reducing healthcare costs. To achieve this, healthcare providers are typically held accountable for meeting specific quality measures, such as lowering readmission rates or preventing complications. Providers who outperform their peers on these quality measures are often eligible for financial rewards, such as bonuses or higher reimbursement rates. 
Additionally, value-based care models often incorporate risk-sharing arrangements, further incentivizing providers to deliver cost-effective, high-quality care.
Despite this, many healthcare organizations fail to provide patients with the quality of care that keeps them coming back—meaning that individuals, families, and consumers are patients and not just customers looking to buy; they want the entire retail experience they receive in the retail environment within healthcare, creating retail healthcare. While seemingly a trend, this type of healthcare consumerism has paved the way for industry-wide change, growth, and innovation among providers. Patients drive facility and health practices' success through their dollars—an effective means of buying power. Instead of health systems leading the industry, it is patients who want more, and specifically, they want value.
What Can Health Systems Learn from Retailers?
Let's first look at what a retailer is. The Balance Small Business defines a retailer as "a retailer, or merchant is an entity that sells goods such as clothing, groceries, or cars directly to consumers through various distribution channels to earn a profit. This merchant can operate in a physical building or online. Retailers are the consumer-facing part of the supply chain, and most people interact with them frequently. They come in all different types, styles, and sizes."
Retailers are always looking for ways to improve customer experience. Ensuring that employees are adequately trained and have the necessary customer service skills is a way provers can enhance their customer experience. In addition, retailers should make sure that their store policies are customer-friendly and that their store environment is clean and inviting. They can also use customer feedback to identify areas where customer experience can be improved.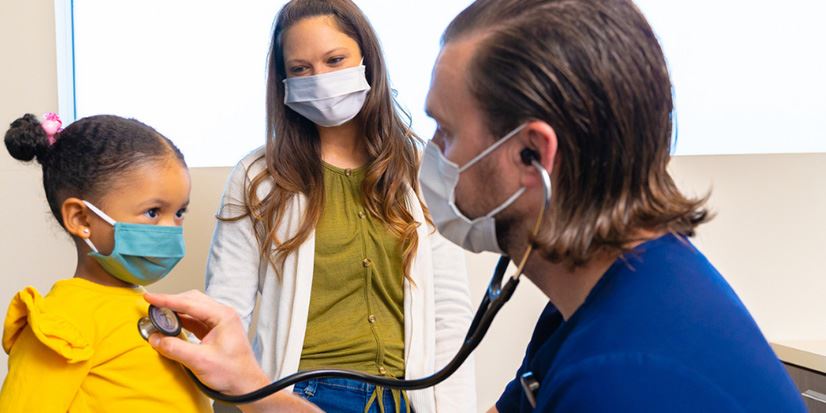 Healthcare Consumerism and Retail Intersection 
Healthcare consumerism takes ideas from typical retailers and applies them to the healthcare industry. Successful patient-focused facilities focus on customer service, accessibility, lower costs, patient reviews, staff training, traffic flow, and the feel and appearance of the facility. 
For one thing, retailers have become experts at using customer data to improve the shopping experience. They track customer preferences and purchase history to provide personalized recommendations and targeted promotions. Health systems can use similar data-driven approaches to improve the patient experience. By monitoring patient satisfaction scores, for example, healthcare providers can identify areas where the customer experience needs to be improved.
Major retailers use the Net Promotor Score (NPS), the most effective scoring system. Intuitive Health began using this several years ago to implement understanding among its staff to ensure that processes and procedures were followed and hearing directly from patients whether its dual emergency room and urgent care center is working. Intuitive Health ranks within the top 1% of global retailers since using the scoring system at every facility.
In addition, retailers have mastered the art of customer convenience. They offer convenient payment options, easy returns, and free shipping. Healthcare providers can take a page from their book by providing convenient appointment times, online bill pay, and extended hours.
Finally, retailers have become adept at creating an engaging customer experience. They use music, lighting, and scent to create a pleasant environment. Healthcare providers can create a similar effect by using calming colors and designs in waiting areas and ways to keep patients moving from check-in to triage to patient rooms to checkout, creating a superior experience unlike any other.
Customers Versus Patients within Healthcare Consumerism
Let's look at some well-known words and their definitions according to Merriam-Webster Dictionary:
Customer: one that purchases a commodity or service
Patient: an individual awaiting or under medical care and treatment
Consumer: one that utilizes economic goods
But are healthcare patients really customers? Looking at data from Press Ganey, a healthcare experience analytics company, it published data in 2021 reported by Forbes, which stated: 
Consumers reported using an average of three different online sources when looking for a provider: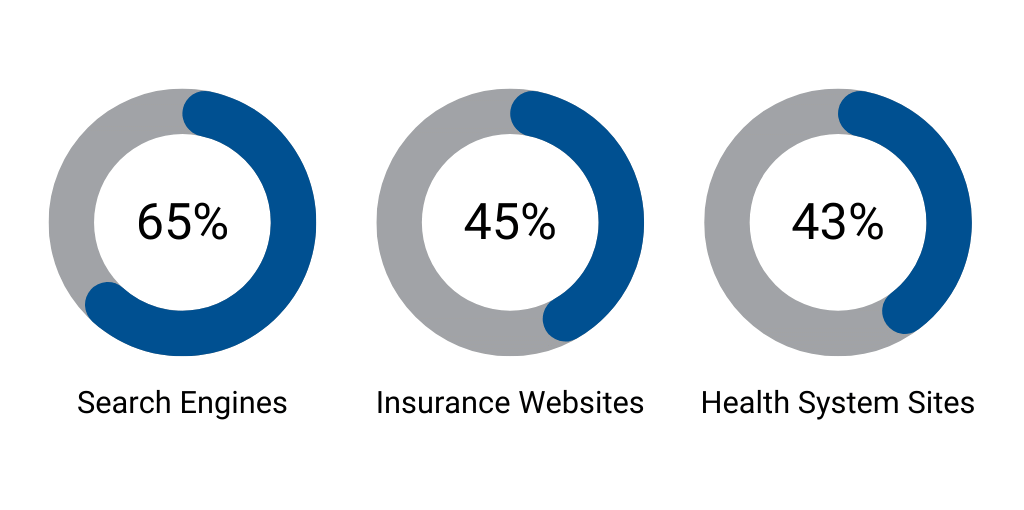 This data demonstrates that people needing medical care shop for services. So if the individual shops for healthcare, wouldn't that make them a customer? 
What Is a Customer Experience? 
In healthcare, customer experience is the term used to describe the interactions between patients and providers. From the moment a patient enters a facility to the time they leave the office, customer experience encompasses every touchpoint. 
In recent years, there has been a growing focus on customer experience in healthcare as providers seek to differentiate themselves in a competitive market. Research shows that patients are more likely to choose a provider based on customer experience than any other factor. 
As a result, healthcare organizations are investing in initiatives to improve customer experience. These initiatives can include training staff on customer service to redesigning the office's physical space. 
By increasing customer satisfaction, these efforts aim to improve patient outcomes and loyalty. In an increasingly competitive healthcare landscape, customer experience will continue to be a critical differentiator for providers.
What Do Patients Want from Healthcare Consumerism? 
It is essential to understand what patients want from healthcare consumerism, and recognizing that means it is easier to deliver the quality of care and be a provider of choice when the operational processes are based on:
Transparency
Convenience
Excellent customer service
Giving patients the power to choose what they want has become the optimum strategy to gain, rebuild and keep their trust. It also creates a bond of mutual respect between care providers and patients.
Patients are also looking for convenience and flexibility in their local medical centers, like offices with access to on-demand information, extended hours, convenient locations, and walk-ins with no appointments necessary. 
The challenge is transitioning between the old-style healthcare system, often referred to as the fee-for-service model, and newer innovations. Where do they fit in, and what happens if they do not keep up with consumeristic trends? How do they adapt to preferable systems, like Intuitive Health's dual care model? This gives patients the ability to have access to two convenient healthcare options—urgent care and the ER in one building.
The options of both traditional and new models still bode well for health systems and patients, especially as the healthcare industry is slow to change. But change is coming, and patients' voices are ready to be heard.
Why Should Health Systems Focus on Healthcare Consumerism?
Changes in healthcare will not and cannot happen overnight. Still, there is ample opportunity for health systems to engage with innovation, providing the industry with options that give patients what they want. In turn, providers will have access to additional streams of profitability, loyalty, trust, and, above all, an excellent reputation within the community it serves.
Transforming these current-standing health institutions will take time. But with the new generation of patients demanding a more transparent, patient-centered approach to healthcare, the traditional hierarchical structures of the industry are wavering. The centralized healthcare model is gradually being replaced by a more collaborative model that empowers patients, allowing them to access the information they need to make informed decisions about their health and well-being. The future of healthcare will benefit from being more open, easy-to-use, and patient-centric.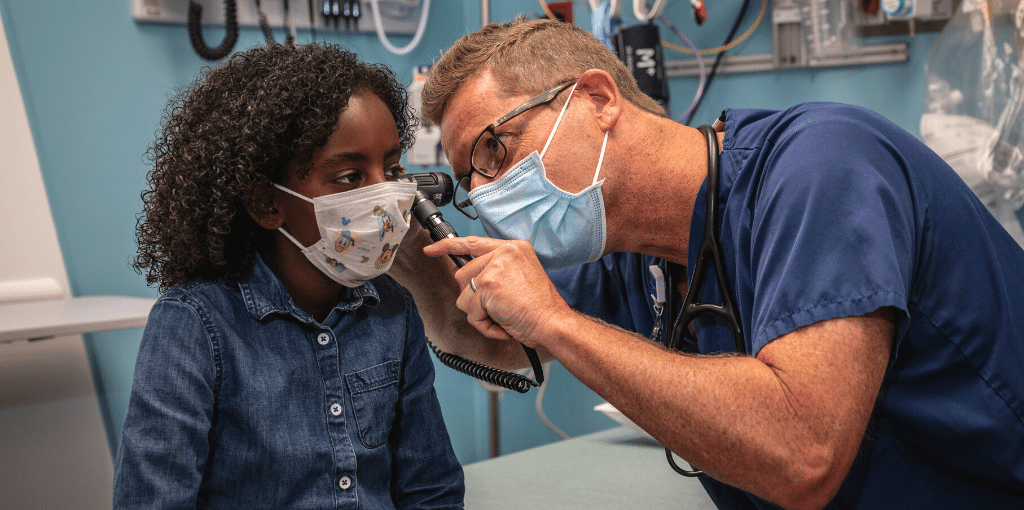 Example of Consumeristic Healthcare Gold Standard – Intuitive Health 
Intuitive Health, the leading dual ER and urgent care model provider, is the gold standard in healthcare consumerism. 
By combing emergency and non-emergency options under one roof, patients do not have to be doctors to make the right healthcare decision for themselves. Instead, ER-trained staff is available to deliver quality of care and determine whether a patient needs ER or urgent care services while patients ultimately decide whether they want to continue with their recommended level of care. In addition, this combined model only charges patients for their needs and the care they receive, disrupting the typical fee-for-service model growing increasingly antiquated as healthcare consumerism flourishes.
Established in 2008 to change the healthcare landscape, Intuitive Health is a physician-led company that puts patients first with its hybrid healthcare system: a combined ER and urgent care clinic in one building. Experiencing discrepancies and gaps within the health industry during their medical careers, the founders of Intuitive Health established the hybrid system to provide compassionate and quality care, timely treatment, and transparency that helps consumers experience peace of mind and value-based treatment.
The best part about Intuitive Health's model—aside from its commitment to WOW its patients—is that it partners with leading health systems to build and operate combined emergent and non-emergent care. The operational processes that support the system are proprietary, proven effective since its inception, and are of absolute value to providers due to their ability to give patients what they need while also meeting the bottom line of hospital systems: profitability. This happens through the unique partnership and simply by diversifying the portfolio of the partners the company chooses to work with. Added bonuses that give patients a reason to build trust in this model at every center includes:
Lower wait times.
Billing transparency.
Reduced ER utilization rates.
Bridging the gap between providers and patients. 
Intuitive Health operates multiple emergency room and urgent care facilities across the United States. Current partnerships, joint-ventures, co-managements, and future planned facilities are located in Arizona, Arkansas, Delaware, Florida, Kentucky, Indiana, New Mexico, Ohio, Oklahoma, Texas, Virginia, and Washington.
Learn more about the Intuitive Health model at https://www.iheruc.com/about-us/ or the care of patients at https://www.iheruc.com/patients/. To find the nearest Intuitive Health partner location, visit https://www.iheruc.com/health-systems/. Health systems and industry executives interested to learn more about Intuitive Health's model can visit https://www.iheruc.com/connect/ to schedule a meeting for partnership details.